Like many inexperienced mums-to-be, I expected breastfeeding to be the most natural thing in the world. Whip a boob out, feed the baby, put the boob away. Having brought my little munchkin home from the hospital, things quickly turned out to be a lot different to what various advertising campaigns had me believe. Breastfeeding is a journey that you and your baby will embark on together, teaching each other and conquering various curveballs life throws at you (teething, anyone?). There are tons of baby gadgets out there designed to make the breastfeeding journey a bit easier and here's a low-down of my favourites nearly 6 months on.
I loved my My Breast Friend so much that I actually bought a spare cover for when it's gone in the wash (which is actually very often). Having an extra cover (or even an extra pillow) is very useful for various poo/wee/vomit/any other baby related disasters. You can pick them up cheaply second hand and it's worth hunting for - I got mine for £5.
2. Haakaa/Nature Bond Silicone Pump
My munchkin often sucks for comfort however once my boob gets going, it's going whether a baby is attached properly or not.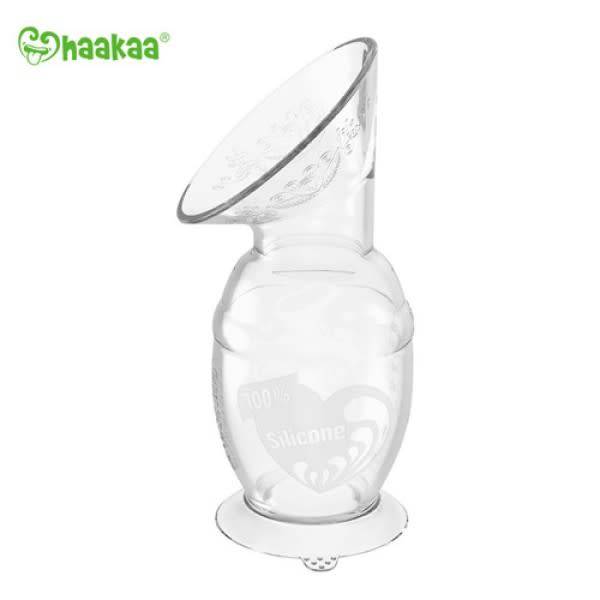 This used to cause a lot of leakage issues and endless breastpads and clothes were soaked in the process. Cue this little gem. Once the baby stops feeding, squeeze and pop the pump on the breast. The pump uses gentle suction to stay on and collects any letdown milk. You can also use it on the breast that the baby is not feeding from at that moment. Absolute milk saver! Most of my milk stash in the freezer comes from using these pumps. After falling in love with the first one
I now have two because sometimes both of my breasts are leaking and sometimes I forget to sterilise them so having two means I have one ready to go at any time.
I got a medium-sized basket for this purpose. My nursing basket is filled with all the necessities that I usually only remember I need as soon as I sit down and my son latches on. My box usually has: tissues, lip balm, antibacterial gel, spare muslin or five, hair ties and clips, spare water bottle, oat bars or other snacks (mostly chocolate to be completely honest), painkillers, snuffle baby nose drops, Kindle or a magazine. As you go on, you'll add more and more to it and those cluster feedings will suddenly become a lot easier!
During the first few weeks of breastfeeding I developed a red mark on my arm from where my son's sweet giant head was resting. Quick google revealed a solution - Snuggleband! These little pillows are made by a fellow mum and they come in lots of gorgeous designs. Snuggleband is so comfy to use, especially when you're feeding out and about - I never leave the house without it! Plus it opens up to become a small pillow - very helpful if you end up somewhere with no changing table and have to use your changing mat on the floor, Snuggleband means you have soft pillow for your poor baby's head.
Due to the cluster feeds that extend well into late evenings, I often end the day, tired, sweaty, covered in both the fresh milk (from leaking boobs) and regurgitated milk (from my baby) and quite often teary. I love getting into a shower to wash all these things away and feel a bit refreshed before my night shift begins. For those few moments when I'm under hot running water things don't feel so overwhelming. So my big recommendation is to treat yourself to your favourite toiletries and use them daily. And please don't have a military-style shower. Your baby will be fine for a little while, even if you think you hear those phantom cries. You will always think you can hear your baby cry when you're in the shower, it's somehow how your brain gets reprogrammed when you become a mum!
6. Klean Kanteen
There's no denying that as a family we're huge Klean Kanteen fans and we take them on all our adventures! First of all, I'd recommend a KK water bottle - there is no thirst like a breastfeeding thirst! I find that even the non insulated ones keep the water nice and cool for few hours. My second KK must-have is an absolute sanity saver that is an insulated KK for hot drinks! Unless you have a baby that is happy napping on their own (or for longer than 10mins at the time), you are unlikely to ever drink a hot drink again - I think my record was microwaving a cup of tea 5 times in the early days of motherhood. These days, armed with an insulated cup, I can walk away forgetting about my drink, change and feed the baby, prep dinner, do laundry and still come back to a nice hot drink - a win for me!
Honestly, you can not underestimate how many of these things you will need at the beginning. You will want to change them often because who wants a cold, milk-soaked pad stuck on their skin? And obviously get reusable ones as they're a lovely, soft treat for your hard-working boobs - you can get gorgeous patterned ones or just simple plain ones if you prefer.
8. Emergency Boob Repair Kit
There will be times when you might need it, and it's better to have them ready than face a dramatic late night search for an open pharmacy. Nipple cream, gel breast pads for microwaving and freezing and medical gauze will sort out most disasters.
I absolutely adore the custom-made nursing bras by Hiccups and Juice - they are made to fit, in beautifully soft materials and you can choose the type of straps that you want.
Did I mention the dazzing choice of fabrics that allows you to truly customise your bra? Just look at these super cute pinatas I chose for one of my bras! (although my husband calls them 'chubby unicorns' which I quite like too)
10. Post-Partum Cloth Sanitary Pads
These are so much comfier and softer than the disposable ones, with the added bonus of no rustling as you're waddling around during those first few days. Velour topping is my favourite because I find that it's very absorbent when it comes to the heavy flow as well as being incredibly soft to the touch.
I hope you find these useful, if you have any other recommendations of the things that made your breastfeeding journey easier, please let me know!